Margot's L'Escargot
Margot is unusual, although not unique, in the motorhoming world, being a lone lady traveller. She has very kindly agreed to tell us about her motorhoming experiences travelling Europe. We caught up with Margot in Altura on the Algarve in Portugal.
Margot who is 55 years old, originally from Cornwall, England is mother to a son and daughter and grandmother to seven grandchildren. She currently has no pets feeling that this would restrict some of her adventures such as city sightseeing. Home is presently her Burstner 625, Harmony, 2.8JTD automatic which, in our opinion, has to be better than living in a tent which was one of her original ideas. Major life occurrences dictated major lifestyle changes, one of which resulted in Margot leaving her home in Cornwall. Having no idea of where she wanted to settle, although feeling a need to be closer to family in Derbyshire she bought "L'Escargot" in September 2009. I am sure we have all felt a little that we are carrying our homes on our back, we are just not all lucky enough to have a suitably rhyming name. Embarking on her search she had just three definite criteria; a separate shower as distinct from a wet room, a fixed bed and clearly after some forward planning, a left hand drive vehicle.
Why, we asked, did motorhoming present itself as the solution? After 12 years of enjoying sailing with her late husband, Margot is no stranger to living in confined spaces and on the move. While sailing she mainly travelled in Europe, including France, Spain and Italy. It was a former colleague who set the motorhome seed when sharing his own plans to buy a Hymer and embark on some travels. Thinking this a smart idea was followed by three or so months of research. After a 10 minute chat with a salesman, at a motorhome show, who tried to persuade her that she did not need a left hand drive, she promptly settled on L'Escargot which is one of three LHD's she finally sought out and viewed. Well, when your mind is made up!
After a period of sorting out domestic matters and practising and planning for motorhome living, mainly camped on her daughter's drive, Margot finally set sail for Europe on the 8th February 2010. She explains that this is her gap year and her reasons for embarking on this long trip are; to seek out new destinations, a little escapism and in Margot's words having 'very nearly lost the plot' due to the difficult period of time that she had recently lived through, she decided to live by her late husband's words believing 'No matter where you go you will always find yourself'. She grins a little as she tells us that she should really be finding work. Taking a year now however is not only good therapy, it is also a time that she considers herself to be not too scared or frail which may naturally alter in later years.
Margot's trip so far has taken in parts of France. Biarritz, one of her intended stopping points, 'simply for its glamour', had to be missed as bad weather made a fairly brisk trip to the south, a necessity. Following her planned route, staying in Aires she spent some time in Perpignan to arrange maintenance of an existing engine problem - one she had, in fact, had since leaving the UK! Onwards to Spain, Margot stops off at Barcelona, spending three days or so and becoming 'Gaudied' out. Following a route south towards Valencia a further stop at Benicassim allows the purchase of a bicycle. Margot was in Valencia to enjoy the Fallas, the biggest, noisiest, probably most spectacular fiesta of the Valencian region. Stopping at Denia, Murcia, and the spa town of Banos de Fortuna which is close to the original camp set up by Ferdinand and Isabella a few centuries ago, Margot then heads on to her next big city, Granada. Enjoying the Alhambra and its amazing history before escaping the landslides to meet up with friends in 'Driving Over Lemons' country, the Alpujarras. Passing the south west corner of Spain and a couple more stops Margot arrives in Portugal, where L'Escargot gets firmly wedged between houses in a tight village junction, escaping only with the assistance of 'helpful' others.
Overnight stops in Spain had been exclusively camp-sites although Margot now wishes she had been 'braver' and stayed at some of the 'aires' available along the route she took.Now in Portugal, Margot is enjoying the wild camping staying at 'Adam and Eve' before Altura and then Alvor before once again meeting up with us at Silves.
To date L'Escargot has clocked up 5000kms in the two months she has been on the road. Seven months still remaining of this trip means, if keeping up this rate that she and Margot could well add some 20 or so thousand to the clock. Not bad for a first trip abroad! Her possible itinerary back to the UK will in all likelihood take in more of Portugal. Lisbon, Porto and some of the famous 'barragems' are all possibilities before Spain's Santiago de Compostela, the end of the journey for the famous pilgrims, but not for the intrepid Margot who will visit San Sebastian and Bilbao before returning once more into France and the possibility of a little house hunting, Strasbourg to visit the Burstner factory and meet up with some friends and finally Italy - maybe?
Margot has a sensible budget for this marathon trip - enough for campsites if that makes her feel safer and not so frugal she has to scrimp. Following the initial outlay for L'Escargot which should bring a return on subsequent sale Margot feels that a rented property would have been money down the drain. On return to England she will have travelled a year, still have a very comfortable motorhome and an investment property in England. So all in all not a very costly experience.
We asked Margot where, if anywhere, would she like to revisit? 'Seville and the Alcazar Palace' came the reply. Her experience of Seville was restricted to a bus trip from Portugal as the camp-site at Seville had been full when she was there before. The trip, although a good taster, did not give her long enough hence the desire to return. She also missed out on Cabo de Gata so although not really a revisit, definitely somewhere she would like the opportunity to get to on a subsequent Spain trip.
We were interested to learn that there was only one time, when sick, that Margot wondered why on earth she had taken this on? When at a low ebb and feeling poorly it is understandable to feel alone and homesick and miss your loved ones. She had not really encountered the feeling of being bored, lonely or nervous. Although she says that France in the winter can make you feel quite alone!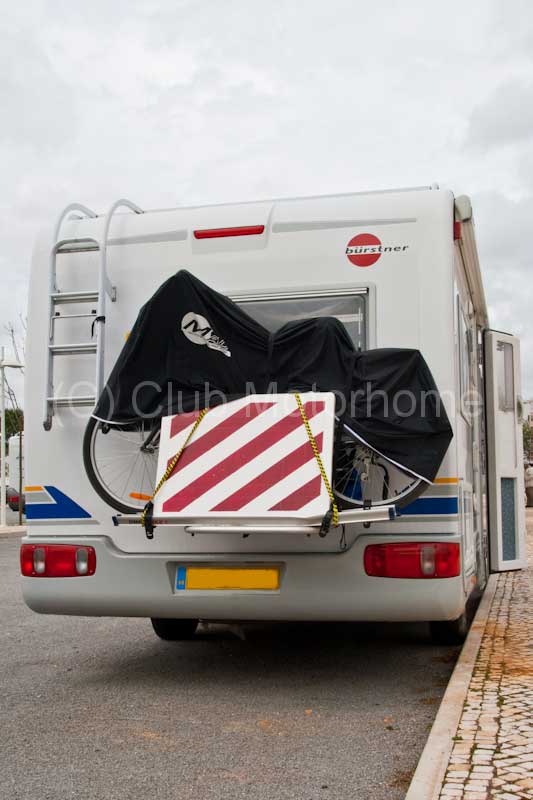 Evidently both creative and independent, having been told by fellow travellers that a red and white backboard is compulsory on her bike carrier, Margot spray painted her white picnic table with red stripes, providing a dual purpose and space saving solution to carrying a picnic table. Suspecting that her door locks may have been tampered with provokes a second trip to the hardware store resulting in an industrial strength chain and padlocks for night time cab door security. Clearly independent and not afraid to have a try at stuff that most of us 'girls' leave to our other halves, Margot argues that she is not brave. She admits that she is not daunted by the police and the never ending stories that abound in this community about the treatment of travellers but that there are those that she regards as TBA's. A term used in the boating world and short for 'to be avoided'. Neither does Margot have a feeling of being displaced. She regards L'Escargot as her home and the differing neighbourhoods in which she finds herself a definite positive! So content she is with her home, the only changes she might like are another metre in length and possibly a separate grill on the oven. A good choice made then, it seems and sticking to her guns appears to have paid off.
Margot finally comments that unlike the very social boating world, motorhomers tend to be rather more insular. Naturally this would mean more in her position than to those of us who travel as a couple.
We are sure that Margot will be an inspiration to many ladies and indeed gentlemen of a certain age who like us consider her to be brave. If not to take up motorhoming then some other adventure that you may have formerly for any number of reasons considered out of reach.
We wish Margot great travels and abundance of new friends as she continues on her journey.
Editors note: The day after this interview was conducted Margot took delivery of a new pet - well two infact. She now travels with two very pretty and very in love 'lovebirds'. Oh Margot - what about the city sightseeing?