£12.50 a year. Joining as a Full Member gives access to ALL the features of the Club Motorhome website: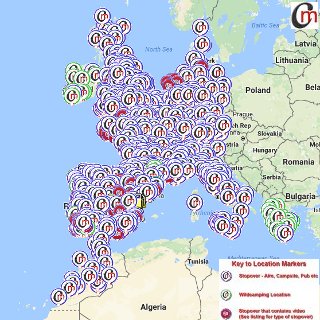 Forums: Full use of our Motorhome Forums.
European Stopovers: Detailed information on European aires and motorhome stopovers in France, Spain, Portugal, Germany, Belgium, Denmark, Netherlands, Luxembourg, Italy, Ireland and Morocco that have mostly been personally visited and reviewed with a breakdown of facilities, GPS co-ordinates, photographs etc. many now include video content of the approach to, or the location itself.
Each one is printable for ease of route planning. More stopovers are being added and/or updated regularly.
These are all available to download as FREE eBooks!
Members using this facility are also able to add their own feedback for any location they use and submit their own suggestions to add to the growing lists.
Pub-Type Motorhome Stopovers: Access to our directory of over 300 UK Stopovers at pubs and other interesting locations across 50 counties, each with a print facility for ease of en-route planning, GPS co-ordinates, telephone numbers etc. Each pub has its own page with more detail including a Google Map and Street View where available so you can see where you are going before you get there. More motorhome friendly locations are being added and/or updated regularly.
Members using this facility are also able to add their own feedback for any location they use and submit their own suggestions to add to the growing lists.
Also available as FREE eBooks!
There is a free sample available for non-members to download for the County of Lincolnshire - try it and see!
FREE eBook available for these stopovers!
To get your copy just click the big red button...
eBook Download
Articles: Hundreds of article content items covering news, how-tos, guides, recipes, travel information, topical features and various reviews including the stopovers above.
Downloads: Access to Members Only downloads - like the Pub-Type Stopover Document etc
Windscreen Disc: Full Member windscreen disc to download and print.
Photo Galleries: Viewing of Members Photos.
Own Photos: Access to create own Photo Galleries and upload photos.
Members Search facility: giving full results from all of our content including the forums.
In-house Blog Software: FREE access to write your own blog on Club Motorhome, no need to source your own domain, hosting and software.
Classified Listings: Free advertising in our Classifieds. NO LIMIT to the number of motorhome related adverts placed by private sellers.
Members features: including Private Messaging.
Directories: Access to Members Directory of motorhome related goods and suppliers.
Discounts: Special Subscriber Discounts on motorhome related suppliers, motorhome insurance from participating companies and/or other services.
Membership number available on request: Should you need to prove membership to obtain discounts.
Ongoing Development: Full access to all other features and content added to Club Motorhome during your chosen subscription period.
That £12.50 subscription gives all this information and anything else that is added for a whole year.
To join in and make use of all this information you can subscribe by completing the registration form and following the instructions - it only takes a minute or two.
So in answer to the original question 'What do I get for my subscription?' You get a full 12 months of quite a lot - that's what!
If you are already a Social Member and would like to upgrade to Full Membership just click on Upgrade Subscription (make sure you are logged in first) and follow the instructions.