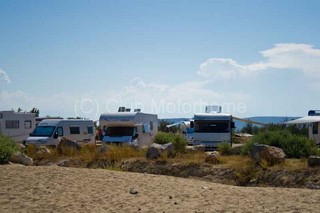 Lose yourself for a few days in this wonderfully located aire. Still our favourite. This year (2012) the price will be 7.20€ although we snuck in before April 1st and had a couple of nights FOC.
On a gravel site almost on the beach it is a perfect spot for a few days relaxation. The charge payable for parking includes sanitation services. There is no electricity. It is a huge site and is in two parts. Many of the pitches on the side by the sea directly front the wide sandy beach.
There are restaurants within walking distance but the supermarket is a good walk or cycle ride away. As is common in many of these big aires a boulanger visits the site in a van in the morning!
Leucate aire is also close to many seafood restaurants around the market where the catch is brought in. It is evident that moules are the order of the day! It is wonderfully flat and a perfect place to unhook your bikes and have a ride along cycle paths by the banks of the inland waterway up to the port. The area itself has lots of attractions but has a lovely uncrowded and open feel to it.
The Google Map will give you a guide to what it's like. The GPS details are accurate and the summary information below is believed to be correct - please let us know if you find otherwise, thank you.
At the bottom of the listing you will see another Google Map which you can zoom out to see other stopovers nearby. There is also a Google Streetview pane which, if its available, will let you move around to explore the area.
If you visit, or have visited, this stopover please add a review to the 'Comments' section at the bottom of this page - thank you!
Summary
Location : France, Mediterranean
Type of site : Aire (town/beach)
Number of places : 200
Surface : Gravel
Electricity : No
Fresh water : Yes
Waste water disposal : Yes
Internet access : Local wifi (10 minutes free per day or 5€ per day)
Tariff : 10.20€ per day
GPS : 42.900176, 3.052826
Photographs and video clip supplied by NEILMAC