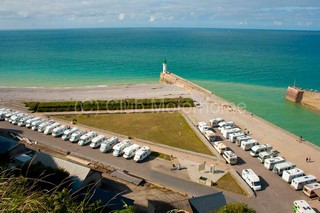 Known as 'probably the best' Aire in France it certainly lived up to our expectations.
Arriving fairly early in the day we were disappointed to see a 'complet' sign up. Well having got that far we would go and have a look anyway. So glad we did as we just found a space and were lucky to be full and empty as we would not want to risk losing it by having to stop at the service point.
This Aire is really so beautifully located. There is so much of natural interest by way of the beach and the coastline. The harbour, marina, shops and many eateries and bars all combine to make this a place worthy of a second visit. It is very busy and you should definitely have a reserve in mind.
The Google Map will give you a guide to what it's like. The GPS details are accurate and the summary information below is believed to be correct - please let us know if you find otherwise, thank you.
At the bottom of the listing you will see another Google Map which you can zoom out to see other stopovers nearby. There is also a Google Streetview pane which, if its available, will let you move around to explore the area.
If you visit, or have visited, this stopover please add a review to the 'Comments' section at the bottom of this page - thank you!
Summary
Location : France, Normandy
Type of site : Aire (town/beach)
Number of places : 50
Surface : Tarmac
Electricity : No
Fresh water : Yes
Waste water disposal : Yes
Internet access : No
Tariff : 6 Euro (collected)
GPS : 49.87233, 0.70832
Description and photographs supplied by NEILMAC
Video clips supplied by stevegreen and arthur49