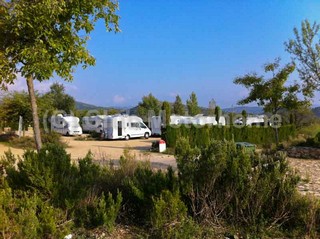 A small aire slightly inland and about halfway between Barcelona and Valencia it is situated at the foot of the thriving little hilltop town.
Services are complete if a little basic but we have always found them clean!
There is no charge for this aire and there has never been a problem getting space, so far.
The town is set high on a hilltop in the very north of the Valencia region and found via some pretty dramatic mountain roads. It is a well preserved fortress town and one of it's landmarks is the large aqueduct you have to pass into the gated centre. It is a pleasure to walk round and the local produce is a key feature of it, the famous jamon, cheeses, honey and cloth to name but some of the delights you can find here. It really is worth making the effort to visit and not just use the aire as a convenient stopping point for your north/south trip.
We have been there many times now as it is a perfect first and last stop for our outward and homeward journeys to our base in Valencia region to the UK.
The Google Map will give you a guide to what it's like. The GPS details are accurate and the summary information below is believed to be correct - please let us know if you find otherwise, thank you.
At the bottom of the listing you will see another Google Map which you can zoom out to see other stopovers nearby. There is also a Google Streetview pane which, if its available, will let you move around to explore the area.
If you visit, or have visited, this stopover please add a review to the 'Comments' section at the bottom of this page - thank you!
Summary
Location : Spain, Valencia
Type of site : Aire (Area de servicios para autocaravanas)
Number of places : 20
Surface : Gravel
Electricity : No
Fresh water : Yes
Waste water disposal : Yes
Internet access : Wifi from town with a good aerial
Tariff : FREE
GPS : 40.62389, -0.09136
Description, video and photographs submitted by NEILMAC