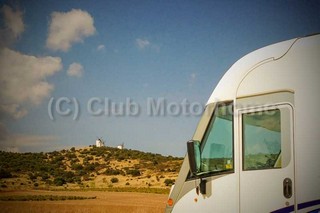 Situated on the Don Quixote route its on the edge of an interesting ancient little town. Overlooking countryside with a nice distant view of traditional windmills.
10 spaces and free services.
The Google Map will give you a guide to what it's like. The GPS details are accurate and the summary information below is believed to be correct - please let us know if you find otherwise, thank you.
At the bottom of the listing you will see another Google Map which you can zoom out to see other stopovers nearby. There is also a Google Streetview pane which, if its available, will let you move around to explore the area.
If you visit, or have visited, this stopover please add a review to the 'Comments' section at the bottom of this page - thank you!
Summary
Location : Spain, Castile la Mancha
Type of site : Aire
Number of places : 12
Surface : Hardstanding
Electricity : Yes €
Fresh water : Yes
Waste water disposal : Yes
Internet access : No
Tariff : FREE
GPS : 39.326582, -3.483568
Description, video and photographs supplied by NEILMAC