Dethleffs produce the 80,000th motorhome
An auction in favour of Dethleffs Family Foundation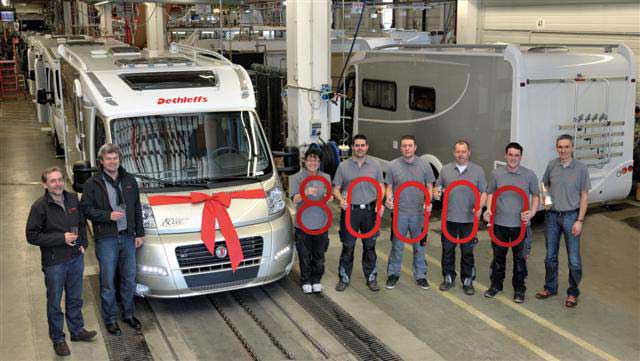 Dethleffs have a real reason for celebrating: the traditional company in Isny/ Allgaeu does not only celebrate its 80th birthday but, produce right at the beginning of the year its 80,000th motorhome. For the Managing Director, Thomas Fritz, the double jubilee has a great importance: "This enormous luck to have produced the 80,000th motorhome during the 80th anniversary year has inspired us to value the both events in a special way. We are going to auction off the 80,000th motorhome in favour of the Dethleffs Family Foundation. The return will be a base for an increase of the Foundation assets with a remarkable sum of 80,000 Euros."
For the Family Foundation this cash injection will make it possible to start a project this year. Sylke Roth, Manager of the Family Foundation: "Since the foundation seven years ago we have been supporting children, families and social institutions. It starts with holidays with a caravan for families in need, hospital and orphanage visits of Santa Clause during the Christmas time and goes on to the point of production of interior fitting of kindergartens, schools and orphanages. The jubilee year we want to start a new big project giving the Foundation another dimension."For the moment the Family Foundation checks the different suggestions, but in autumn as the latest a decision will be made and a part of 80,000 Euros will be invested."
The sale of the 80,000th motorhome will not achieve the focused donation amount, unfortunately. Therefore Dethleffs would like to ask partners and customers for project support. The central focus with the highest donation amount, however, is the auction of the 80,000th motorhome. The final award for the highest bidder will take place during the Caravan Salon in Düsseldorf in August. All those of you who are interested in the auction and donation can get more information on our website: www.dethleffs.de. Dethleffs is the most traditional manufacturer of leisure vehicles in Europe and can record the invention of the caravan and consequently the new travel habits in the year of 1931 by the company founder Arist Dethleffs.
The manufacturer in Allgaeu which is located in Isny since 80 years has been producing motorhomes since the year of 1983. Dethleffs were the first who went for the Fiat Ducato base andmade it possible for Fiat to have a breakthrough within the motorhome industry. Since few years Dethleffs make use of the nimbus "being the largest motorhome producer in Europe". In the year of 2010 the company was first in the statistics of the new motorhome registrations in Germany. The specific feature of Dethleffs is the enormous model variety beginning with the beneficial compact caravan and ending with the Luxus Liner.