This is a summary of how Club Motorhome works.
The website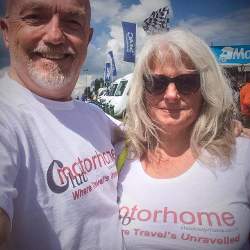 Club Motorhome has been developed by husband and wife team Neil and Caroline (NEILMAC & caromac) for all motorhome owners and enthusiasts. Keen 'hands on' motorhomers, they spend roughly half of each year travelling around Europe in their own motorhome loving the lifestyle and gathering more experience and information for Club Motorhome.
Motorhome related content was included when the website was created in 2009 and has been added to massively ever since.
Each suitable piece of content has a "Print" facility making it very easy to save the information as a pdf file on your device or by printing it off economically on paper if you prefer. A community of members has grown and added even more content that is available to other members. There have been numerous articles, very many stopovers within the UK and farther afield in Europe as examples of members' input. We welcome further input and have developed 'stopover submission forms' to make this easy to do. Articles are generally submitted by email and published on the member's behalf by Admin.
There are some suggestions as to how members can enhance and personalise their own presence within our community here Your Input
Club Motorhome has grown rapidly into a major information resource for motorhomers. The UK stopovers, which are mainly pub-type locations cover more than 60 counties. We've also made these available to members as downloadable eBooks enabling them to be used offline.
Our European stopovers include France, Spain, Portugal, Morocco, Italy, Germany, Belgium, Luxemburg, Netherlands, Ireland and Denmark. We've also made these available as downloadable eBooks enabling them to be used offline.
We welcome hints and tips, as well as articles and news to include. The website is designed very much around a club environment. Significant differences being that it is wholly and independently owned, not connected to any motorhome related industry so we are not trying to sell books, magazines or accessories (we do have an 'Amazon Store' where you will find many motorhome related bargains - but this is an addon to the main website which is an information resource) - and we're not run by a committee so do not, therefore, suffer from internal club politics or conflicts of interest!

Further additions have already been included since our launch - Our own Social Network, Motorhome Forums and members' FREE Classified Advertising sections being just some of them. We have obtained exclusive discounts from motorhome related suppliers to Club Motorhome members too.
More features are planned and we will also continue to listen to members requests as far as our future development is concerned.
Membership
Registration followed by paid subscription is required to benefit from ALL the features of the Club Motorhome website.
There is a small subscription payable to become a member. Club Motorhome relies on income generated from members subscriptions and a small degree of advertising to fund its development - and most importantly, keep its independence.
We do not use cheap, or even 'free', hosting with all the difficulties and lack of control and security that this can bring. As the website has grown, better and more expensive hosting has become necessary to cope with the increasing traffic - just one reason income generation is required. Although trade advertising is included it does not smother the website with adverts and will not be allowed to influence the website's future direction.
The subscriptions are £20 for a whole year from whenever your joining date is - and even this is discounted if you join, or renew, for 2 or 3 years at a time. You'll save this many times over from the information you gain, discounts you can receive or the cost of overnight stays by using the stopovers we list. As an example, if your insurance company gives you a discount for motorhome club membership you will likely save far more than your annual subscription straight away! At the equivalent of around 40 pence a week the full £20 membership is a bargain!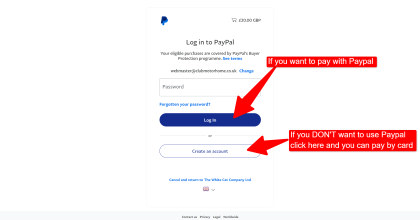 Subscription payments can be made by credit/debit card through Paypal. We use the secure payment system that Paypal offers to accept these payments - PLEASE NOTE: you do not have to have your own Paypal account to use it - you will see that there is an option to 'checkout as guest' and use a bank card on the checkout page.
We can also accept payments in non UK currencies through this system and therefore welcome European and overseas members.
Membership entitles you to access the otherwise restricted areas of the website, these contain far more content than the publicly viewable information. Liken it to entering a newsagent to browse a magazine - you may well be able to glance at the pages but you should hardly be able to read the whole thing, your choice is to either buy the magazine, or leave the shop.
A Club Motorhome subscription allows you to keep reading the constantly updated 'magazine' for the length of your chosen subscription! Click here to register and subscribe.
You may wish to read 'What do I get for my subscription?' for more information of what you actually get for around 40 pence a week.
If you are not already a member you can JOIN HERE