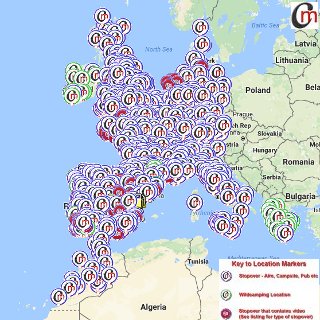 These are the motorhome stopovers that we list. Hover over or click on a marker to see more information.
Please Note: You do need to be a Full Member to see the complete details of the locations shown.
If you would like to see what the benefits are of the different memberships are you can see them here - What do I get for my subscription?
Registering is easy, just follow the instructions after clicking 'Create an account'.
ALL our motorhome stopovers are available for Full Members to download as eBooks FREE!

- NO internet required on your travels to use them! Just select the region or country that you would like and download the eBook...
Places to stay in Europe
Members! Please send us details of places you have stayed at with your motorhome - they may well be of interest to other members. UK or abroad, all reviews welcome.
Just tell us a little - location, cost, facilities etc. What you liked and what you didn't! Include a photo or two if you'd like.
Please fill in the details in the Stopover Submission Form on the next page or use the Comment Form below. If you would prefer you can send your review by email to info@clubmotorhome.co.uk and we'll publish it.
Thank you.
Share a Stopover
Do you have a stopover you can send us?
Submit a Stopover
Check the subcategories below for more information.
Subcategories