The Club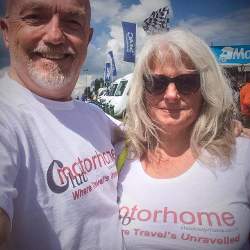 We, NEILMAC & caromac developed Club Motorhome being very enthusiastic new motorhome owners in 2009. Now keen 'hands on' motorhomers we spend as much time as possible of each year travelling around Europe in our own motorhome, loving the lifestyle and gathering more experience and information for Club Motorhome.
The intervening years have taught us many things, not least that we never know it all! But we, along with many of our members have been able to share a wealth of experience, information and knowledge to people new to motorhoming and hopefully some 'old hands'.
Much of the website content is available for printing or saving to your own device. This is especially the case with our downloadable motorhome pub stopover PDFs.
Make the most of YOUR membership
It was always our intention for CM to be a 'club' and your input is very welcome. Many members already regularly contribute (thank you!) and we would love this to continue and grow. With this in mind our stopover submission forms have been developed to make this very easy for you. Please contribute your information here.
Other articles being generally submitted by email and published on the member's behalf by Admin.
>>>Here<<< are some suggestions as to how you can join in with the community such as personalise your profile, use the chat timeline, post on the forums...
Just some ways to contribute to the content which helps each and every member include -
Telling us about stopovers you like or are handy.
- These can be anywhere but include Aires, pubs, wild or free parking locations. We will add them to the website.
- If you find a pub-type place that is happy for you to 'stopover' ask if other CM members would be welcome bearing in mind our ethos of 'paying our way! See what we think here.
- Knowing that our members are responsible and don't want everything for nothing it shouldn't hurt to share fabulous places you've discovered- tell us about you 'gems' be it an Aire, village, town or area.
Write an article about a place you've been to or a problem you have overcome
- How did you clean your 'Heki' flyscreens - go on tell us we need to know!
- Your travel plans or 'blogs' of road-trips, we are happy to publish and link to your blog.
More about Club Motorhome
So you can see the website is designed very much around a club environment. Significant differences being that it is wholly and independently owned, not connected to any motorhome related industry so we are not trying to sell books, magazines or accessories - and we're not run by a committee so do not therefore, suffer from internal club politics or conflicts of interest!

Over the years we've developed to include - Our own Social Network, Search for Stopovers facility, Motorhome Forums and members' FREE Marketplace Advertising sections being just some of them. We have obtained exclusive Discounts from motorhome related suppliers to Club Motorhome members too.
We constantly look to improve the site and we will continue to listen to members requests as far as our future development is concerned.
Membership
Paid membership is required to benefit from ALL the features of the Club Motorhome website.
There is a small subscription payable to become a Full Member because Club Motorhome relies on income generated from members subscriptions and a small degree of advertising to fund its development - and most importantly, keep its independence.
You may also notice some (as discreet as possible) Google advertising and we do have an Amazon Associates account which enables us to link to relevant products listed on Amazon.
We do not use cheap, or even 'free', hosting with all the difficulties and lack of control and security that this can bring. As the website has grown, better and more expensive hosting has become necessary to cope with the increasing traffic - just one more reason income generation is required.
The Full Member subscription is £20 for a whole year from whenever your joining date is. You'll save this many times over from the information you gain, discounts you can receive or the cost of overnight stays by using the stopovers we list. As an example, if your insurance company gives you a discount for motorhome club membership you will likely save far more than your annual subscription straight away! As you can see here - the equivalent of around 40 pence a week the £20 membership is a bargain!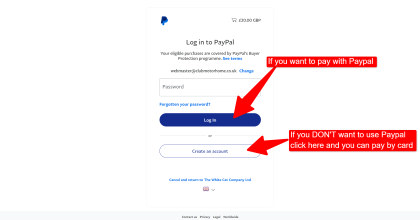 Subscription payments can be made by credit/debit card through Paypal. We use the secure payment system that Paypal offers to accept these payments - PLEASE NOTE: you do not have to have your own Paypal account to use it - you will see that there is an option to 'checkout as guest' and use a bank card on the checkout page.
We can also accept payments in non UK currencies through this system and therefore welcome European and overseas members.
Membership entitles you to access the otherwise restricted areas of the website, these contain far more content than the publicly viewable information - Liken it to entering a newsagent to browse a magazine - you may well be able to glance at the pages but you should hardly be able to read the whole thing, your choice is to either buy the magazine, or leave the shop.
Membership Options
This subscription gives access to all the features and restricted website content for a whole year - whatever time of year you join. Great value at the equivalent of around 40 pence per week!
Although we use Paypal to securely process payments - you do NOT need your own Paypal account, simply use your normal debit/credit card if you prefer, just 'checkout as guest' during the payment process.
FULL Member - Recurring 12 Month Subscription - (Automatic Renewal)
This subscription automatically renews each year unless you cancel it. It gives access to all the features and restricted website content for a whole year between each renewal. Great value at the equivalent of around 40 pence per week!
Important! As long as you keep your recurring payments in place your subscription will always be the same.... ie. if the subs ever go up, you are locked in at your original rate of £20 per year.
Although we use Paypal to securely process payments - you do NOT need your own Paypal account, simply use your normal debit/credit card when you first register, just 'checkout as guest' during the payment process.
Non Member
This is just to be able to place adverts and reply to Marketplace adverts on Club Motorhome.
It means that advertising on our Marketplace is FREE to everyone!
Being a Non Member does not give any extra access or privileges - but upgrading to full member is also very easy if that's what you'd like.
Non Members receive notifications at 3 months with options to renew or upgrade to Full Member.
If you don't want to wait you can 'Upgrade' to one of the other subscriptions at any time!
A Club Motorhome subscription allows you to keep reading the constantly updated 'magazine' for the length of your chosen subscription! Click here to register and subscribe.
You may wish to read 'What do I get for my subscription?' for more information of what you actually get for around 40 pence a week.
If you are not already a member you can JOIN HERE