Book Reviews
Members! Please send us a review of motorhome related books - they may well be of interest to other members.
Just tell us a little about them - How useful, subject matter etc. What you liked and what you didn't!
Please send your review by email to info@clubmotorhome.co.uk and we'll publish it here.
Thank you
España Discovery
Based on the idea behind 'France Passion', this is a guide to Spanish local producers who will allow motorhomers to visit and stay overnight.
The España Discovery book is a compact size, running to about 200 pages. It's written in several languages including English and represents 8 years of input from its authors.
The principle behind the scheme is that visitors, who are members of España Discovery by buying the book, can produce the current guide to the hosts on arrival. This allows them to take advantage of a 24 hour (maximum) stay without charge or obligation. Users are expected to abide by the conduct guide within the book.
A Monkey Ate My breakfast - Motorhome Adventures in Morocco
by Julie and Jason Buckley
This is a travel book written by Julie and Jason Buckley and it details their initiation (limited to one month by their insurance) into the world that is Morocco. They progress from timid newbies, seemingly nervous and apprehensive of every possible scenario that could unfold once in the country, to confident and experienced Moroccan motorhome travellers taking pretty well everything in their stride.
They travelled as independents, as opposed to being in a guided group, so they learned their many lessons as they went along their way. The skill of bartering was mastered, saying 'No' to the frequent outstretched hands became easier, bureaucratic paperwork became more familiar and dealing with the often chaotic driving became second nature.
Motorcaravanning Handbook 2nd Edition by John Wickersham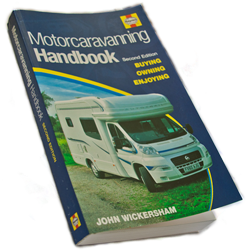 This is a perfect manual for the motorhome owner.
Often answering questions you didn't know you had, it is also just the right size for the glovebox.
The book takes a novice right through the process of becoming a 'motorhomer', having statistics relating to motorhome ownership and travels, comprehensive explanations of different types of motorhomes , chapters on different aspects of the motorhome itself including buying, legal and ownership issues together with a wealth of useful tips and pointers for getting the best out of your motorhome as regards places to stay, care of the individual appliances and habitation systems.
ADVERT - Full Members don't see these - click our link below to hide them