Motorcaravanning Handbook 2nd Edition by John Wickersham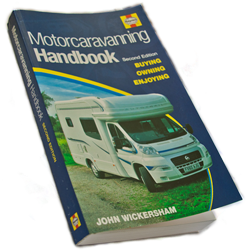 This is a perfect manual for the motorhome owner.
Often answering questions you didn't know you had, it is also just the right size for the glovebox.
The book takes a novice right through the process of becoming a 'motorhomer', having statistics relating to motorhome ownership and travels, comprehensive explanations of different types of motorhomes , chapters on different aspects of the motorhome itself including buying, legal and ownership issues together with a wealth of useful tips and pointers for getting the best out of your motorhome as regards places to stay, care of the individual appliances and habitation systems.
The chapter on various types of motorhomes for example, gives the prospective owner a guide to what each type has to offer to facilitate focus on an individuals needs. The book sets out very clearly the plus and minus points of each type of motorhome.
Although aimed particularly at those very new to motorhoming, an exisiting owner would also find the handbook very valuable for the tips and reminders and for those not entirely happy with their current motorhome.
The content is well laid out and in logical order with plenty of photos to illustrate and aid with any tasks that might need to be undertaken.
At a RRP of £14.99 the book represents good value for money and is a useful guide for all your motorhome needs.
It's published by Haynes ISBN 978 0 85733 264 6.
Available from Club Motorhome's Amazon Store and other good book shops.