We managed to set off yesterday after hastily packing the van - we do seem to leave this to the last minute lately!
Anyway, our normal routine is to travel about 35 kilometers to our favourite beach side wildcamp area, where we finish packing stuff into proper areas in the van and make up the bed etc. We also had the chance to say hello to some people that we saw last year at the same spot.
The location is not very scenic in the parking area but is literally just next to a lovely beach, VERY quiet at this time of year and great for walking Digger - it was from here that we rescued him a whole year ago!
We dined on pizzas an enjoyed a DVD before turning in, knowing we had a fairly long drive the next day.....
So today we were up and about earlyish for us and prepared for our long leg north to Huesca. Before we left I wandered around our parking area and lost count of the motorhomes - at least 60 and a dozen of them Brits. Most vans being Dutch with a proportion of German, its certainly becoming a popular spot
.
With a couple of stops enroute to Huesca for food and drink etc we arrived while still light to our campsite destination, the gate was closed but not locked so I slid it open and parked up connecting to the very handy EHU - plenty of choices of where to park as we were the only van there!. I eventually found someone who was manning the reception an offered my passport and payment for the night.... no need for such formalities it seemed and only 10€ cash for the night. Not bad for EHU and WiFi included.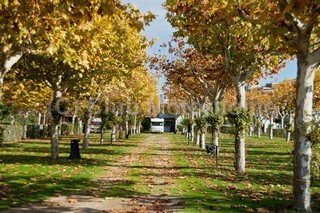 No need to book in their excellent restaurant for the evening either and we could pay him later for the pitch as he had no change - I love the laid back attitude...
France tomorrow