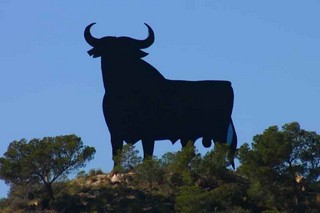 Not a travel guide (there are plenty of those already), more a brief guide for motorhomers who want to visit and explore some of 'Real Spain'
Just a few short years ago Spain was very sparse in terms of official motorhome parking (Aires), or Areas de Servicio para Autocaravanas as the Spanish call them. In the last few years there have been huge improvements in the numbers of these places becoming available to us motorhomers.
Enlightened provincial and regional authorities have set up municipal areas which are often free and many private entrepreneurs have set up private businesses which are commonly referred to as Camper Parks. Together these have increased the stopover locations by many hundreds!
The first thing to realise when entering Spain is that it is a very different country to the one you just left, usually France.
It's not just the language that's different - it's the whole culture and not just the stereotypical dancing and donkeys, it's also about the way people think. Yes it can look scruffy, even run down as you pass through main streets. The Spanish are not traditionally interested in showing superficially grand exteriors to their houses (or cars!) - they concentrate of the realities of life, their families, their work etc. Spain is a hard working, very down-to-earth country.
Drive through a town during the afternoon and it will often look like a run down ghost town but first thing in the morning or later in the evening people will be out and about bringing life back to these places.
Spain is actually not just a warmer version of Britain - that's not as daft as it may sound, very many visitors (and indeed expat settlers) come for the weather and cheap food and drink with little regard for the actual culture of the country they are visiting. A 'little' Britain can be achieved by keeping to the tourist spots - plenty of Pubs and varieties of restaurants there, but for the motorhome traveller there are so many more opportunities to explore with all these new (and existing) places to stay overnight.
Off the beaten track and away from the resorts each town, or even village, will have its own identity and community with local shops, bars - which are often great places to eat or just take a coffee break, and other commerce and architecture. The people are generally very friendly, the local and national police are extremely helpful if you ask for their help. Do remember its not Britain though - some basic Spanish (or at least a phrasebook) goes a long way. Real Spain doesn't generally speak much English and why should it?
Being such a huge country and the second most mountainous in Europe it offers diverse landscape and climate. It has a lot to offer - from those mountains, across desert-like plains to superb coastal stretches there really couldn't be much more choice.
Club Motorhome promotes these diverse areas by displaying the motorhome stopovers in those areas.
We hope that you will take up our recommendations and try these stopovers for yourselves and when you do please provide us with your own feedback - each stopover has a comments section, an update information form and a photo submission form.
Please help us to continue building this resource into one of the best available on the internet.
Our Spanish Stopovers
All are easily searchable by using our Search for Stopovers facility - try it out!