A Motorhomer's Guide to Ireland
I know from talking to other motohomers that Ireland has been on their bucket list for a while, but somehow first time or repeated trips to mainland Europe seem to take preference, and until this year this was the case with us. One wet winter day back in January I started surfing the internet for inspiration for our next trip and stumbled across the Wild Atlantic Way website. Like the NC 500 in Scotland, or even the Cabot Trail in Canada, the Wild Atlantic Way is a creation of the marketing bods to increase tourism in some of the more remote regions. Anyway, as fore mentioned, Ireland has been on our list of places to travel and the good job done by the marketing bods with the Wild Atlantic Way website convinced us to make 2017 the year.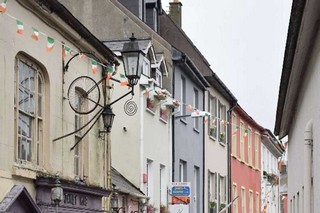 Living in the south of the UK, Fishguard with a three and a half hour crossing to Rosslare, was our preferred choice to launch our Irish odyssey. I use the term odyssey, as the Wild Atlantic Way is a 2500km road trip around, arguably, Europe's most diverse and spectacular coastline. Throw in another 500km of the Irish Sea coastline and there is an epic journey on our doorstep to be conquered.
Even though tourism brings much needed income to remote areas, I am pretty sure the locals must get fed up of the constant stream of cars, coaches and no doubt motorhomes that wind their way through these iconic landscapes. So it was for this reason that we choose to do the trip in late March to early April. The thinking being that traffic would be lighter and that we would have some wonderful wild camping (sorry parking) stopovers to ourselves.
Getting There
There are four passenger ferry companies that you could choose from and compared to crossing the channel the prices seem expensive. However, if ferry costs make the trip prohibitive then you could use a freight ferry like Seatruck which is much cheaper, however it is an eight hour crossing!!
The Roads
Ireland has motorways, national roads, regional roads and local roads. The condition of the motorways and national roads far exceeded our expectations and far better than England. The national roads in particular are wide with a good surface and few pot holes. We had no problems with the local roads, they can be a bit narrow in places, but no more so than in Dorset or Devon, so quite suitable for larger motorhomes. Just be aware of the local buses and hang back on the bends if you see one coming, they appreciate it!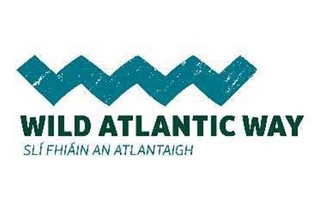 I am not sure who designed the Wild Atlantic Way logo, which is also used to signpost the route, no doubt it cost a lot of money (probably EU), and is devoid of any romance or cultural heritage. If you follow the signs to the letter they will take you down the odd cart track which may not be practical for some.
Some Recommended Drives
There were many special drives but these particularly were memorable.
R568 Sneem to Killarney National Park, via Molls Gap
R559 Slee Head Drive, Dingle
R355 Doo Lough, through Ben Creggan and Ben Gorm
R675 Copper Coast Road, Co Waterford
R442 to Malin Head, Inishowen
N71 to Molly Gallivans and Turners Rock
Stopovers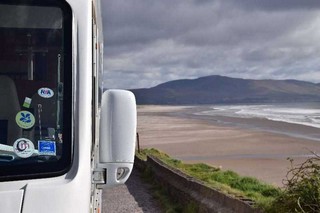 The camping season in Ireland doesn't get underway until Easter or well into April. For us this was fine because we much prefer wilding or Aires. We stopped for 25 nights and didn't use a campsite, hence our overnight charges for car parks or Aires came to 49 Euros. We had two pub stops, one with a meal and the other where we sampled the Guinness. We also had 15 nights wilding which cost us nothing. All our stopovers have been posted on the Club Motorhome website and in the Ireland eBook.
Water, Waste and Rubbish
Obviously Aires are the place for emptying and refilling with fresh water etc. However as we all know, we're not always in the right place at the right time for emptying. Although fuel may cost a bit more at the local village garage we found that they were more than willing to let you discharge into a drain, fill up with fresh water and empty the cassette, especially when you have just spent 80 Euros or so on diesel. Just check to see if you can see a water tap and preferably an outside loo before filling with fuel. Rubbish bins and skips are as rare as hen's teeth! Most of the street bins have a hole big enough for a coffee cup and that's it. Even the Lidl supermarkets, and there are plenty of them, have tops on their bins. We ended up with our garage full of bags of recycling!
LPG
We had no problem with filling our Gaslow bottles, even with the filling point in the gas locker. Many of the fuel stations are attendant operated. The only issue we had was convincing the attendant that both bottle taps should be turned off before filling!!
Costs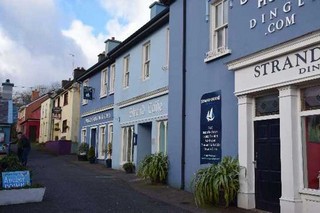 We were lead to believe that Ireland was an expensive country to visit. Eating out was a bit dearer, but with cheaper diesel and comparable supermarket prices we were pleasantly surprised and came back with change in our pockets.
The Places
If you are into walking, boating, remote places, the coast, history and folk culture craft and music then Ireland has to be at or near the top. I know the weather can be iffy, and it was… we had rain snow wind and some glorious sunny days. Just make the best of it. You know the old adage 'no such thing as bad weather just bad clothing'
The People
Cities are usually the same the world over. However, Irish folk just have to be the friendliest people on the planet, or at least the ones we met. Definitely a slower pace of life. Would we go again? You bet and we won't be leaving it too long. Ireland took us back to our childhood, quiet roads, villages where people give you a wave and rush hour is when the birds fly home to roost – halcyon days.
Some useful links
If you need any more info then just post a question on the Club Motorhome Forum. If I can't answer it then I am sure someone else will.
Happy Travels
Spinner