Motorhome stopovers (Aires) in the UK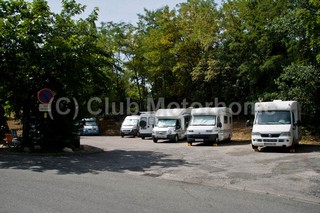 Frustrating as it is, we know that with just a couple of exceptions, the UK has none of the excellent motorhome stopover facilities called Aires, Stelplatz, Sostas, Camper Stops etc that can be found all over Europe.
These facilities allow motorhome (only) parking for short periods, maybe one night up to a few nights. They often have water and waste facilities and sometimes electricity. Some are free whilst others charge a small amount for parking and/or the use of the services. The provision of these facilities is meant to encourage users to spend a little money in the local community. They are not campsites so should not be considered for long stays - they are merely safe places to park, eat and sleep in your motorhome.
From time to time motorhome enthusiasts or individuals try to lobby the relevant UK authorities to provide something similar, sadly with little or no result. Club Motorhome applauds those who make such efforts and wishes anyone well who considers going down this route in the future and although we are very happy to list any locations that do become available we are not optimistic enough to channel our own efforts in that direction.
There are alternatives!
The alternatives to Aires in the UK that we DO work hard to encourage are our Pub Stopovers. These days it's are not only pubs that may accept overnight parking for motorhomes! Other types of businesses have been approached over the last few years and we now include farm shops, vineyards and various other interesting locations too.
These locations in towns and villages allow a one night stay (it may be worth asking if its OK for a 2nd night), they may or may not have facilities - but some do, and they may or may not make a charge although I'm sure they would appreciate some custom in return for their hospitality - that's the right thing to do, isn't it?
Doesn't sound so very different to using Aires does it? .....And, this motorhome stopover network already exists!
How do you get the information?
On the website:
All the locations (over 300 across more than 60 counties) are available on the Club Motorhome website. The information is available FREE to Full Members, so if you are already a full member its viewable by county, from our main menu. If you're not yet a Full Member then its going to cost £20 a year for full membership giving access to the listings and any updates and additions during your membership. We don't supply paper books but we have introduced FREE eBooks! We don't supply membership cards but there is a Full Member Windscreen Disc free to download, print and display instead of stickers, badges etc. We also supply a guide to using the listings which is >>here<<.
Each county listing is broken down into pages, the main one being a map of the locations.
Many of the listings contain reviews/feedback from visiting members but more comments are welcome as a great way to keep our information current.
In our opinion this is the nearest thing to an Aires system in the UK that you are going to see for a very long time - if ever!
Or download our eBooks:
How to get the eBooks?
Each County website page and each County in the Main Menu has a link next to it to download that eBook:
There is a free sample available for non-members to download for the County of Lincolnshire - try it and see!
FREE eBook available for these stopovers!
To get your copy just click the big red button...
eBook Download
Only Full Members will see all the menu links so just click on the ones that you are interested in. Or, go to the chosen County webpage and download your FREE eBook from there.
It couldn't be easier!
The Lincolnshire sample is completely free to anybody. The other Counties require full membership and no more! Just another great feature and benefit of Club Motorhome membership.